26.05.16
US Russia Global Forest Link Wrap-Up Conference (Cultural Exchange and Next Steps)
The live interactive conference on May 24, 2016 was the culminating session of the US Russia Global Forest Link (Phase 2) project. The purpose of this event was for participants to share cultural information, summarize their experiences, and to discuss next steps.Over the past five months, students in the United States (from California, Iowa, Chicago, Washington DC) and students in Russia (more than 15 different locations) studied forest change and the implications (due to fires, drought, insect infestation, logging, human development, climate change, environmental stress, excessive forest density, etc.). Students conducted field research, documented forest change in their local community, collaborated with partner schools, connected with national experts, and created digital stories about their experience.

---
27.04.16
Skype Conference – April 27
April 27, 2016, Skype conference among the US and Russian participants
---
25.04.16
Skype Conference – April 25
April 25, 2016, Skype conference among the US and Russian participants
---
7.04.16
Международный Лесной Диалог : презентация для учеников состоялась 7 апреля
3.04.16
Parker Magazine Highlights the Global Forest Link Project
---
30.08.15
Russia: Firefighters continue to battle Buryatia wildfires
---
30.08.15 17:01
The area of forest fires in Buryatia per day increased by more than 800 hectares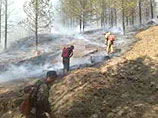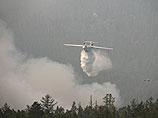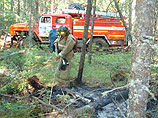 The emergencies Ministry on Sunday reported some success in fighting the fires in Buryatia. In the Republic «managed to halt the growth of the area of fire»: at night, the area will be increased by 819 hectares, whereas before it was increased by 3,000 hectares every day, reports «Interfax».
«During the day in the Republic of Buryatia there were two fires on
the area of more than 3.1 thousand hectares, eliminated six of fires on the square
more than 2,2 thousand hectares,» — said in the MOE.
In Buryatiya rages 56 wildfires.
For the past day to fight the fires involved nearly 2,400 people and 231 unit of equipment.
The Department also reported that for the last day in Irkutsk
new centres of natural fires not. «Liquidated three fires on the area of 1937 hectares», — reported in the MOE.
In the area of the fires is still hampered by the use of air due to
bad visibility. However, the aircraft has prevented the spread of fires in the direction of a single locality.
The Department stressed that all localities and objects
the economy is protected from fire rescue garrisons of EMERCOM of Russia.
Source: http://en.news-4-u.ru/the-area-of-forest-fires-in-buryatia-per-day-increased-by-more-than-800-hectares.html
---
28.08.15 06:16
Worsening Wildfire Seasons Tax The Forest Service
This has been one of the worst — and most expensive — wildfire seasons ever in the Northwest, where climate change and a history of suppressing wildfires have created a dangerous buildup of fuels.
With fires burning hotter and more intense, there are renewed calls to change how the federal government pays to fight the biggest fires.
"These large and intense fires are a natural disaster in much the same way a hurricane or a tornado or a flood is," U.S. Agriculture Secretary Tom Vilsack says. "And they ought to be funded as such through the emergency funding of FEMA."
But behind what seems like another battle over which agency should pay for what, is something much bigger and more complex. The U.S. Forest Service, part of the Agriculture Department, simply isn't set up to deal with these new types of mega-fires that are transforming the West.
To understand this, remember that wildfires have been intertwined with the Forest Service since just a few years after it was created. The summer of 1910 was later characterized as "The Big Blow Up." Coincidentally, like this year, the worst fires then were in the Northwest and northern Rockies, where more than 3 million acres burned and at least 85 people died.
In the years after, the Forest Service implemented its now infamous "10 a.m. policy." Every wildfire had to be put out by 10 a.m. the following day.
They got really good at it.
i
"There are a lot of people who refer to the U.S. Forest Service as the 'U.S. Fire Service' because fire has become such a part of their mission," says Michael Kodas, a wildfire expert at the University of Colorado.
Today, the wildfire season is much longer — 78 days longer than even in the 1970s, for instance — and the conditions out on the land are extraordinary. This is taxing the Forest Service to the breaking point. The agency is now spending more than $1 billion a year to fight fires, and just a fraction of that for every other important ecological job the agency is responsible for such as watershed restoration, tree thinning or recreation projects.
"Part of the problem here is, basically, overly ambitious expectations of what the Forest Service and what our wild land firefighting organization overall can really accomplish." Kodas says.
It's now widely known that prior wildfire suppression policies are partly to blame for the current conditions. Yet the impacts of the worsening wildfires on the agency's budget are telling, if startling.
This year, more than half of the entire Forest Service budget will go to fire suppression, compared to about 16 percent in 1995. More recently, the agency has reported a 114 percent increase in fire suppression staff and a 38 percent drop in the number of people who do all the other work. As fire seasons become year-round in some Western states, the Forest Service has hired a lot more professional firefighters and a lot fewer wildlife biologists or technicians who conduct prescribed burns that help prevent wildfires.
In some ways, the Forest Service set itself up for this. Retired and former Forest Service officials say that as logging declined in the West, the agency made its name as the firefighting leader on Capitol Hill. Today this is how most Americans have heard of the Forest Service, and wildfires are often how the agency justifies its existence to lawmakers.
Firefighting has also gotten more expensive — and political — with homes and whole cities now built out into the woods.
Dick Mangan, a retired Forest Service fire official and now firefighting consultant in Missoula, Mont., says the 24-hour news cycle has made it harder to get smarter about long-term forest management.
"All of a sudden somebody's going to be sticking a camera in there almost forcing the issue, socially and politically, that we take some kind of action to try to protect these places," Mangan says. "And that generally involves an awful lot of expense."
In Oregon on Friday, Agriculture Secretary Vilsack warned that the federal government is already spending more than $150 million a week fighting wildfires. The Forest Service says federal, state and local fire teams typically control all but 2 percent of the tens of thousands of wildfires that ignite every year. It's that last 2 percent that can turn into the big, catastrophic blazes such as Washington's Okanagan Complex fire.
Vilsack told NPR that the Forest Service is paying its firefighting bills at the expense of other programs that could help prevent future fires.
"At the same time, members of Congress and senators come to us and say, 'We want more work being done in our forests, we want more timber treated,' " Vilsack said.
But wildfires are still relatively small natural disasters compared with a big hurricane or earthquake. There's widespread doubt that Congress will act on changing fire budgets this summer, so the Forest Service may be stuck as the "Fire Service" for some time.
Source: http://www.npr.org/2015/08/28/435552748/worsening-wildfire-seasons-are-taxing-the-forest-service
---
"Это не ночь, а день": Из-за пожаров в Бурятии озеро Байкал затянуло дымом. ВИДЕО
Площадь природных пожаров в Бурятии растет. По последним данным, огнем охвачено более 150 тыс. га. Еще два дня назад площадь пожаров составляла 136 тыс. га.
Об этом сообщает Цензор.НЕТ со ссылкой на Росбалт.
Читайте также на "Цензор.НЕТ": В России горят более 80 тысяч гектаров леса
В YouTube опубликовано видео, снятое днем на озере Байкал (РФ). Из-за сильных лесных пожаров в близлежащих районах озеро затянуло густым черным дымом. Вокруг лодки кромешная тьма, видно только зарево от пожара. При этом мужчина за кадром говорит, что видео снято "в половине второго днем".Источник:http://censor.net.ua/v349793

Согласно последней информации МЧС России, общая площадь лесных пожаров в Бурятии выросла на 819 гектаров, но темпы распространения огня удалось снизить.
Source: http://censor.net.ua
---